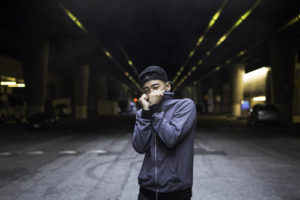 This week we have the opportunity to speak with Dan Matthews. Dan is an alternative rap artist from Los Angeles, CA. His high energy performance is mirrored with lyrics about self-reflection, addiction, and identity. He draws on electic inspiration from the likes of Mike Shinoda of Linkin Park to the Neighborhoud to Odeza. He's also a Korean Adoptee and works to speak voices to that community. He's produced documentaries about the Adoptee and Asian experience including his journey back to Korea in meeting his biological family including an identical twin brother he never knew about. His work has been recognized around the world including the BBC, NPR.
Growing Up
We spoke about his tribulations on what that is like growing up in a white family as a Korean adoptee. Dan is unlike traditional Asian Americans who wanted to be white initially before they realized being Asian is pretty awesome. Contrary, Dan grew increasingly curious of his Asian descent and sought out his biological parents in Korea. He really grew to understand his roots and became accepting of his missing roots at a young age wholeheartedly. When he started to have trouble identifying himself as an Asian American, he relied on his emotional support network to make that happen. A support network is really important when it comes to dealing with hard choices and emotions. During young age, it is especially important during those years before we become emotionally mature.
We also spoke about how having a strong foundation is super important. Many times, we do not like to do the boring simple stuff, but it is those boring, simple things that allow us to become where we are today. Dan mentioned how he was performing live at various events even though there were no to few people to build his experience before he is not performing live across huge audiences across the globe both domestically and internationally.
Navigating the Rise on Apple Podcasts, Spotify, Stitcher, or on your favorite podcast platform.