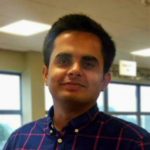 For any company, integrating innovation with your business model is key to delivering better products and services to your customers. If you're looking into using emergent technologies in your business, you have to innovate and use your resources well.
In this week's episode, we're chatting with Amit Josh, the CEO of the blockchain domain company HashPrix. Amit shares his entrepreneurial journey, and he lets us in on his knowledge on how to be an expert quickly at new technologies. He also talks more in-depth about how residing in different countries has helped shape his perspective not only in business but also in life.
This episode is packed with valuable insights on entrepreneurship and firsthand experiences on different cultural exposure. I hope you get loads of takeaways after the show!
Here are three reasons why you should listen to the full episode:
Discover how you can easily apply emergent technology across different verticals.
You will learn how Amit leveraged his cultural background in his work.
Find out the different levels and paces of innovation in different cultures, specifically in India.
Resources
● Check out the items that have been crucial for my self-development here !
Episode Highlights
Amit's Background
Amit started as an engineer, as he says, "like most Indians," but he was more on the design side.
He worked with Ericsson for about five and a half years before starting his entrepreneurial venture.
He started his MBA in Milan and then eventually moved to Michigan, where he was able to work with big ventures such as Amazon and Whole Foods.
Starting Out in Blockchain
Amit wanted to walk the path towards entrepreneurship and emerging technologies.
He was inspired by his technical friends who were into MS and AI.
He knew that it was something worth pursuing. However, he also knew that this requires funds, and, at that time, Bitcoin's return of investment was at an all-time high. That took care of his finances.
Now, he is currently managing three ventures in the UK, Germany, and India. All are related to the blockchain with different verticals. Tune in to the episode to know more about Amit's journey in establishing these three ventures!
Emerging Technologies
The supply chain of each vertical is different.
If you have someone already experienced in the supply chain of a specific vertical and they apply the "blueprint" of blockchain to that, it becomes easier to see where new technology could be applied best.
Different Systems Across Cultures
Amit has studied in India, the United States, and Milan, where he experienced different education systems.
When it comes to interacting with people, people are warier in India, more relaxed and inclusive in Milan, and more pragmatic in the United States. Amit also talks about their work culture differences in the episode.
Their commonalities are the eagerness to learn and openness to interact with others.
India's Circumspection
Amit explains that most Indians are not that open to starting a conversation. It will hit you that "(the) majority of the population in India is introverted."
Hence, even though you are in the same social circle, it may take a bit of time to interact compared to other cultures.
The Role of Innovation
Innovation means coming up with strategies to do the same thing differently and carrying it over toward work.
The ability to innovate played a big part in Amit's college life in India and in his work. Find out in the episode how he implemented innovation on his first venture!
First, you have to understand the need for a product to make your innovation more relevant.
Being technologically sound and open to interactions helps in implementing innovation.
The implementation part is more important than just having the idea.
Culture Shapes Identity
Living in different countries helped shape who he is in the present.
Amit learned in Michigan that knowledge of strategy and sustainability helps in gaining more perspective.
In London, he learned that your social and professional network inspires you more than you can imagine.
He learned in Milan that short breaks and a time for relaxing allow you to clear your mind of what would enhance your career.
Once you connect with a culture, everybody is as open and as eager to tell stories like that.
Innovation in India
Amit's term for innovation is "innovative bug."
Undergrads and people who are working don't just settle with their current situation. They find ways to work on something entrepreneurial.
They mainly work on technologies and coming up with ideas after ideas.
On the government level, the policies are still being made. But once they catch up, the deliverables will be much higher.
Exposure to Different Cultural Environments
Amit works on the advisory side of the United States. Tune in to episode if you want to know more about the projects that he is a part of.
The most important thing he has learned is the importance of breaking stereotypes.
Wherever it may be, hard work and willingness to learn from others are the most critical value-adding qualities to have.
Once cultural barriers in communication break up, understanding what the person you're talking about is looking for becomes easier.
The Difference Between Success and Failure
Listen to the full story of the Japanese agriculturist and why few succeed in the episode!
The innovative idea is not merely handing out a solution. It's essential to cover the entire circle for support for a new product.
Following through is vital for all products and ventures.
When you're on something, you have to validate it first to know whether it's ready to be presented to the market or not.
If you falter, you learn something new. It is especially true for start-up scenarios.
5 Powerful Quotes from This Episode
"It's always good to network with new people who you know, but they are new to you."
" Innovation is not something about like coming up with the same thing; it's about how you can do the same thing differently."
"Working on something new and seeing that implemented is much more important than just having the idea."
" If 1% of India is innovative, it still matters. Any part of the world occurs just due to the sheer numbers."
"Having traveled internationally and interacting with people, it was for me…it was really important to break stereotypes."
About Amit
Amit Joshi is the CEO of the blockchain domain company HashPrix. He works on implementing blockchain to the government, education, start-ups, and various industries, including telecom, healthcare, logistics, payments, and crypto exchanges. Amit is an MBA+B.Tech graduate with 10 years of work experience in business strategy consulting and product management and implementation.
You can reach Amit via his email mitjosh@umich.edu . You may also connect with him on LinkedIn.
Enjoy the Podcast?
Navigating The Rise highlights the unique identities of different Asian communities. If this podcast has helped you gain new perspectives on various cultural norms, don't forget to subscribe and share it with people who can benefit from the discussion.
Love to give us 5 stars? If you enjoyed this podcast, we'd love to hear from you! Help us reach more audiences and provide answers to all your questions about Asian and Western cultures.
Do you want to help spread awareness about different cultural norms? You can do it by simply sharing the things you've learned from this episode on social media!
Navigating the Rise on Apple Podcasts, Spotify, Stitcher, or on your favorite podcast platform.
As always, you can contact me here!