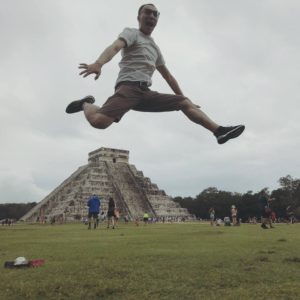 This week we have the opportunity to speak with Jerry Liu. Jerry is a full-time digital content creator and currently has more than 130K subscribers on YouTube, 181k subscribers on Facebook. Having spent time in journalism, PR, and more than 10,000 hours in the digital media space, Jerry carries unique communications experience in traditional and digital media and offers a unique blend of passion, energy, and focus to his works and to clients and employers.
Jerry started his first YouTube channel (called JerryLiuFilms) for fun, but it developed into multiple brands. Since 2011, He gained more than 30 Million views and partnered with Multi-Channel Networks like Fullscreen and BBTV. Besides YouTube, he also experimented with other digital media platforms. He also put videos on YouKu and Bilibili, two of China's biggest video content sites, and gained more than half-a-million views on those Chinese site. He has also tested Vine, Twitter, and Instagram.
Metrics
Jerry mentioned that he learned how to use metrics to elevate his success. For example, he started to analyze what product companies care about. That means when it comes to releasing content on a platform and looking at how to get conversions and receive wide engagement. He mentioned there are a few key things to keep in mind when starting out. For example, he evaluated based on three metrics: Passion, ROI, and Effort. He doesn't keep a project going if there is no passion. Because, in the downturns, it is hard to get things going. As for ROI, he wants to see how much effort it takes him to generate a profitable ROI. If there is a very low return he might consider starting another passion project. As for efforts, he mentioned that if it stresses him out in terms the number of efforts requires to get things going, he would start and deplete his cognitive and decide to stop completely.
He also shared one of his biggest lessons from my first YouTube channel was to specialize. Every idea should be its own brand on a separate channel. That's the secret to success because fans on each platform and each account are different and expect different content. Applying this lesson, he shared he experienced a 600% growth of my brands since 2016 when he started creating focused channels based on the needs and trends of the digital media community.
For more, tune in below:
Navigating the Rise on Apple Podcasts, Spotify, Stitcher, or on your favorite podcast platform.